My Return to Sailors Run in Bahia Caraquez, Ecuador, 9/2015

  Debbie and I have just wrapped up a great 6-weeks together, visiting family and friends. Our tour started in New Mexico at our son Chris's place for several weeks then; off to Colorado to visit friends, then it was on the bus to Grand Junction where we climbed aboard the Amtrak Train to San Francisco, to visit our son Daniel's family and friends.
Debbie and I put on a slide while there at the Corinthian Yacht club at Tiburon. It seemed the show was well received and several of our long time cruising friends came by to see us,which was wonderful.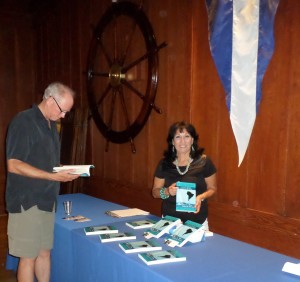 Next we were off again to Washington state to visit friends and family,such as our daughter Ginger and sister Bonnie  and brother in law Jim live there.    I must admit there were many great friends that we never got to see, but you must know you are all in our hearts and minds often.
It was truly magic to return to Longbranch, Washington, and put on a slide show for our friends and neighbors there, it had been over 16 years ago that we left that quiet community, and I'm happy to report it is still just that a quiet community. This was put into the Newspaper and Newsletter
(COMING AUGUST 25TH "CAPE HORN "CAPE HORN "CAPE HORN-ONCE MORE AND BEYOND" ONCE MORE AND BEYOND" ONCE MORE AND BEYOND"
Former Longbranch residents, Jeff & Debbie Hartjoy, have quite a story to tell.
Since leaving Puget Sound in 1999 and 'turning left' at Cape Flattery, they have logged over 85,000 miles at sea aboard their Baba 40 sailboat, "Sailor's Run", and will be back in Longbranch on August 25th to share their adventures with old friends, neighbors, and guests, at the Longbranch Improvement Club.    Jeff will take listeners on a trip through the Southern oceans, including his solo transit from Ecuador to Argentina via Cape Horn. Jeff's presentation will include photos of sunny beaches, local islanders, and occasional gatherings of fellow cruisers at some of their favorite spots from Baja, Central and South America, and the South Seas.
Of course, it's not all fair winds, coconuts and palm trees out there on the blue water, so he will also recount his passage around notorious Cape Horn, dealing with 50-knot winds, blown sails, gear failures, and electrical fire, and a punishing knockdown off the Falklands.
But wait! There's more! Jeff is now preparing for another solo rounding of Cape Horn. This time he will keep going east, as he attempts a nonstop circumnavigation via the Five Great Capes. His plan is to accomplish this feat in about 5 months, and he has vowed to not use his engine or accept outside assistance. He plans to leave Ecuador around Halloween, and with any luck, hopes to arrive back in Ecuador by his 70th birthday next April. This is not a 'bucket list' stunt, Jeff just plain loves sailing.
He will share his enthusiasm, determination, and sense of humor with all, who attend this special presentation, whether you are an Armchair Adventurer or an experienced sailor.
The program will be on August 25th, Tuesday evening, starting at 7:30 pm at the Longbranch Improvement Club Hall, 4312 Key Peninsula Highway, Longbranch WA.)
We were also able to get to the Bob Perry Rendezvous at Port Ludlow and visit with THE MAN who is a major part of our Baba Ketch-Sailors Run.

  Debbie and I took off in two different directions from Tacoma, Washington, she to Oregon to visit our daughter Heather and grandson and me flying back to Ecuador.

  I was so loaded down with two new sails and lots of parts for the boat, not to mention warm clothing for the upcoming circumnavigation, and I could only hope the plane would get off the ground. I was very anxious about coming into Ecuador with all this stuff, as I had heard many horror stories about customs in Ecuador. Well as it turned out I was welcomed right in with absolutely no problems, I just wish I knew better, " when to worry"

  Arriving back at Puerto Amistad marina at 4am worked out well as the security guards were happy to see me and helped lug my two sails and three bags down to the patrol boat, and soon I was back aboard the "Old Sailors Run". I was happy to find the door still locked and secure, everything was still there as I breathed a sigh of relief and collapsed into my birth.
  It was 10am when I finally rolled out of the "sack" and had a look top sides in the daylight. Yes all things were in order and everything was coated with a secure layer of dust.

  Now I'm busy readying Sailors Run to put to sea once again, there is much to do over the next two months, and I eagerly dive into this project, so I can finish up the obvious, getting the new sails on, replacing the whisker stay fitting that I had discovered was cracked. Of course the bright work must be repainted and the teak in the cockpit all oiled. I brought back a new control cable for the auto pilot, and my boom break must be reinstalled on the main boom.
  A really big ticket item will be the provisioning for 5-7 months, our friend John in Colorado came up with the great idea of pickling a bunch of eggs to extend there life, and maybe mine. I will be more than happy to hear from anyone on this subject of provisioning for extended voyages. Just realize that I'm in Ecuador and there are no Costco's here, so we have to work with some pretty basic foods, but I'm hoping to make them tasty.
  I just want to thank my Great Wife "Debbie", for supporting me in "living the dream". I know I will be alone on the sea, but she will always be traveling with me in my mind and heart, not to mention encouraging me anyway she can from afar.

  Check out Blog for photos at www.sailorsrun.com.
                                                                                               Thanks, Your Amigos Jeff & Debbie