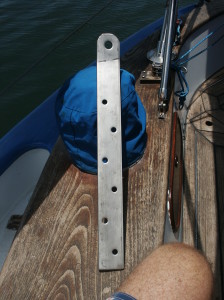 It's that time of year again and this Hurricane season seems to be starting fast.  So far nothing has raised havoc here in Marina Mazatlan. There was a Hurricane to the south that was coming up the coast but has gone ashore south of Acapulco, just prior to me flying in to Mazatlan.
I'm busy getting the rebuilt boom back on the mast and the main sail hanked on so that I can began my push up into the sea, where a Hurricane Hole can be found before one develops and finds me. I also replaced the chain plates for the split back stay as they were showing signs of crevice corrosion, "Hell I think I'm showing some of the same signs".
I just did a first ever,I payed someone Forty dollars to scrape the bottom of the boat as the water here is not so clean so opted out of that foul job for once. Debbie's and my trip home was wonderful. Debbie has accomplished a great deal over the past month,She first found a nice condo to rent in Albuquerque, New Mexico then flew to Washington to help her daughter Heather downsize her belongings and they together made the move by car back to New Mexico. All and all it is a good thing as now both Heather and Debbie are surrounded by family in a great place.       I had a wonderful time with my family and friends. I'm still not quite sure where this leaves me, but the one thing I do know I'm doing what I truly love and that is living the cruising life style. I do understand that we all have seven needs and they must be met, for us to be happy. It seems we are both happy so all is well with us. Debbie plans to rejoin me in early November in San Diego, CA. where we will bus back to the boat that will be waiting in Rosalia, in the Sea of Cortez.
It will be then that we will start our passage south to Ecuador with many stops along the way, for the upcoming solo circumnavigation around the world.
I want to take a moment to thank all of you that have purchased the book "Cape Horn: Ahead or Behind Forever on My Mind." And I'm so happy that you are enjoying the read and have offered up such wonderful reviews about the book. If you have read the book an enjoyed it, I would greatly appreciate it if you could take a couple of minutes and submit your review at Amazon.com where you made your purchase.
Writing the book took several years and much effort on the part of many people, and it seemed to me that I was never going to get my hands on a physical copy, but now that I have, I'm truly happy with what our efforts have produced. It not only looks great but even I couldn't put it down after I started to read through it, "I just couldn't put it down."
If you have not ordered a copy yet and are interested in the book just go to and you will end up at our new blog site where you can get a copy of the book just by pushing the little button under the book cover. We love hearing from all of you and please remember not to hit the reply button as it sends the adventure back to me via a slow radio connection.
Thank You. Your amigos, Jeff & Debbie