Sailors Run Says Goodbye to Mexico /April 2015.
After nearly a year and a half it's now time to leave beautiful Mexico's great anchorages, the great food and fine friendly people. Our stop in Acapulco has been a great experience, as we found a mooring ball for $200 pesos a night, about 13-dollars.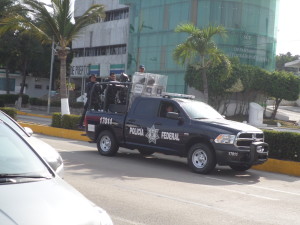 We had to go watch the famous "cliff divers" and as before they were amazing, leaping off the cliffs called La Quebrada over 100 feet above a narrow shallow gash in the rocks where perfect timing is the difference between life and death. The feature diver did a back flip off the 100+ foot ledge narrowly missing the jagged protruding rocks that jut out below him. His entry was feet first and very clean we gave him a 10+ on that one.
We got involved, glady in trying to arrange a tow for a disabled sail boat that had lost its motor and was 300 miles off shore, with no wind and drifting farther out to sea. The boat was finally able to get closer by sailing and was soon only 105 miles off shore, and still wanted a tow. The guy we found offered to come tow them for $10,000-dollars. The sailors declined this offer then counter offered to pay $7,000.00 dollars but that was not accepted by the tow'ers.
After much encouragement by several sailors including Sailors Run they eventually sailed within twenty miles of the coast and it was at that point I suggested they put the dinghy in the water and use their 15hp out board lashed to the side of the boat a forty seven foot Vagabond to propel them toward Hualtuco . They were able to move seven miles at two knots where they were taken in tow by another cruising boat that with both the dinghy and the other boat they were now able to move at over 3-knots toward's their destination at Chahue marina where they could get repairs for their fuel injection pump.
Debbie and I met them outside the marina in our dinghy as we had sailed down from Acapulco and were anchored near the entrance to the Marina. We basically acted as a tug boat pushing the bow this way and that to help guide them to a safe landing inside the marina.
We all get by with a little help from our friends and these folks were very appreciative of all the help they had after haven been out to see for 38 days
After several days of celebrating with the rescued and rescuers we sailed across the Tehuantepec, a potentially dangerous body of water. The sail is about 220 miles to Puerto Madero the last port in Mexico near the border of Guatemala. This time of year passage across is not a problem as the weather predictions are quite accurate and this time of year there are less big winds. We only had 10.5 hrs of sailing and the rest required motoring on glassy seas. There were hump back whales and hundreds of sting rays leaping into the air along our route. The large green back turtles abound here and are like speed bumps that you try to avoid. We also encountered several long liners that are no threat to us as our long keel just pushes them down out of the way and they skim along the bottom of the keel to pop up astern once we have crossed over them.
Marina Chiapas welcomed us in and the very next day we hauled the boat out of the water. We painted our own bottom and installed a separate thru hull fitting for the water maker. We will put the boat back today March 30th after just 3-days out of the water and once our income tax is completed we will set sail for Bahia Caraquez, Ecuador. We hope to arrive there in about two weeks, that being the middle of April sometime.
I'm down to 7-months before the start of my solo nonstop around the world south of the 5-great capes.
As you can imagine not a day goes by that I do not put some thought into the preparation for that great adventure. Most recently I acquired an additional 150- feet of ¾ inch 3-strand nylon to get my Parachute anchor road back up to a useable length, well over 5 times the length of my boat. The Parachute anchor is a last resort to try and survive a huge storm at sea. If I'm ever likely to need it, that time will be on this upcoming circumnavigation.
One of my biggest concerns is provisioning for 6-months and what will last and be also appetizing day after day along the way. Cooking will be difficult at times and other times there will be some calmer conditions where if I feel like it I can put on my Jeff's, hat or is that "Chefs Hat". Debbie and I are pretty used to doing this yet when you are tired it would really be nice to have some "trick meals" in my bag.
So PLEASE feel free to give us some tips on what you have found that really works well for long passages, when you just need something special to lift your "spirits" a little?
If you feel the need to send a recipe, send recipes to our sailorsrun01@yahoo.com
Putting to sea, Your Amigos- Jeff& Debbie