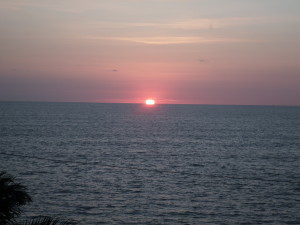 Total Miles sailed so far=24,499 nm.
Miles sailed last 3-Days=412 nm.
Miles left to go to finish off Bahia=581 nm.
THE REST OF THE STORY:
DAY-196 24hr.Run=103nm. Pos. Lat.13*28'S. Long.87*44'W.Weather:Wind =ENE-ESE 10-6-12kts. Seas=SW 4-6ft. Cabin Temp=76*-80*.Bar=1010mb
The SE- trade winds have begun to fill in at last. Now I must pray "Patches" will hold together for this final dash to the finish, in the building trade -winds.
Last evening I was once again treated to an amazing "green flash", and if it is possible to record one in a video, I surely have it!
It was during one of my late night watch inspection, while panning the horizon that I spotted a huge bright glow coming from over the NW horizon. This glow was surely coming from a large fishing vessel that was all lit up harvesting the sea. We are now just 600 nm off the South American coast and converging with it. As always when a vessel nears land the hazards increase, and vigilance must also increase to stay clear of "harm's way".
The large fishing vessel over the horizon did not appear on my A.I.S. a bit concerning and I can only hope he has an A.I.S. receiver on board, receiving my signal as the receiver is much cheaper to purchase than the transmitter.
DAY-197.
24hr.Run=148nm. Pos. Lat.11*21'S. Long.86*34'W. Weather=Bar=1008mb. Wind=E-SE12-18kts. Seas=SE-6-8ft. Cabin Temp=78*-80*.
Sailors Run is now "hauling ass" in the SE Trades! Yahoo!!
Debbie is waiting for me in Bahia and has fresh salt free water that she will bring out to me once across the finish line should I need it. It is possible when I arrive that I might miss the high tide to get across the bar and might have to anchor in the "open road-stead" anchorage off shore overnight.
I would like to share with you one of the hardest things about a voyage solo around the world unassisted south of the 5-great capes.
In my mind it has to be remaining "confident" of your abilities to pull it "all off".
I must admit that this is very difficult when you and your small vessel are thousands of miles from the nearest help in perilous seas and winds caused by numerous gales and storms over a duration of 4.5 months. This scenario is a huge grinder chafing away at your "personal metal"; something far greater than one can even imagine.
The "Confidence" that is required comes from your knowledge and experience that you bring along about sailing in heavy weather conditions on a well-designed boat. That confidence is shored up and supported by the beliefs of friends and family, that you can do it.
Let me give you a couple of examples: Debbie is my greatest supporter and continually tells me and others I'm the best sailor she knows and I can do this voyage.
Another example is like when I was completing my first rounding of "Cape Horn" back in 2009 and was sailing up the Rio De Plata river a shallow 200-nm body of water approaching Buenos Aires Argentina. I was exhausted and wanted to make the marina at Yacht Club Argentino before dark.
I started up my Perkins diesel and motor sailed a knot faster than I could go without the motor. It was after only two minutes the engine sized and was a total loss. I hadn't checked the oil as I knew it was full, but because of a knock down in a storm and a broken dip stick tube all the oil was outside the engine in the drip pan.
I'm not a wealthy person by any stretch of the imagination, and this engine scenario was going to cost me 13,000 dollars and Debbie was all excited to celebrate with me in Buenos Aires the successful Cape Horn Trip.
Now all of these events had shattered my confidence and I was seriously thinking about running the boat up on the beach and walking away. I ended up pulling my emails and there was this one brief email from my friend "Willy" and he seemed to know right where I was at in my mind and he wrote this "Jeff you have successfully rounded the greatest cape of all, Cape Horn and you are nearly there, now just "kick its Fnn ass and sail that boat right into Yacht Club Argentino and grab onto something".  You cannot imagine how that shored up my confidence and suddenly everything became perfectly clear, and simple what I had to do.
So I just want to say ,Thanks to all of you out there that have encouraged me and shored up my confidence helping to make this voyage a success. I do believe we all get by with a little help from our friends.
DAY-198.
24hr.Run=161nm. Pos.08*59'S. Long.85*26'W. Weather=Bar=1007mb.Wind=E SE 15-20kts. Seas=ESE 6-10ft. Cabin Temp=78*-80*.
Trade winds continue to build and we find ourselves close reaching on course with good speed.
Today I became alarmed when suddenly 22 targets appeared on the A.I.S. Once I started pulling the target list up I seen that they were all over 600 miles away. It seems that there was some sort of atmospheric conduit that had opened up the propagation for me to be able to receive these signals, and after about 15 minutes they disappeared off the A.I.S.
Still no rain and I'm still making coffee with the much too salty water, just trying to weather through this drought for a few more days.
I have not yet resorted to drinking my "urine" My daughter "Ginger" thoughtful like she is, suggested that I serve it up in a nice tea cup and add some "herbs" and sip it like an exotic tea. Now I'm sure most "exotic teas" have a name and possibly this one should be called "Me-Tea"; what do think "mates".
Slipping along thinking about "sipping it up" the Jefe'.