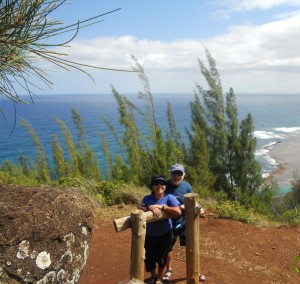 Missing info from Days 178-179-180.
Miles left to go to finish off Bahia=1976nm.
Total miles sailed so far=22,911nm.
Miles sailed last 3-days=129nm.
Miles left to go to finish off Bahia Caraquez=1883nm.
Top speed so far = 14.1kts.
DAY-181. 24hr.Run=50nm. Pos.Lat.26*41'S Long.100*16'W.
Weather=Bar=1007mb. Wind=W-N8-10kts. Seas=W-N 6-8ft. Cabin Temp=71*-74*.
Today I find myself staring at my "weather" information, "rubbing" my head trying to figure out how to keep Sailors Run moving.
It seems the highs and lows are forming right where I am, and the pressures in the lows are the same as the pressure in the highs. I honestly don't "know" how they know whether they are to be a high or a low. I can only guess it just depends upon which way they spin first as here highs rotate counter clockwise and lows rotate clockwise.
The thing I do know for sure is there is very little wind from any direction, making progress for Sailors Run nearly impossible.
My concerns are that when Debbie gets to Bahia Caraquez she will be sleeping outside as many of our friends cannot enter their homes until they are inspected and determined to be safe.
Now with the many aftershocks they are having 4-6 magnitude most people are content to be outside. Fortunately, the temperature is normally in the 80s both day and night and very little rain.
Debbie has purchased a sleeping bag and is gearing up for the conditions that await her. I on the other hand feel pressed to get there and provide shelter for her.
DAY-182. 24hr. Run=35nm. Pos. Lat.26*34'S Long.99*51'W.
Weather=Bar=1008mb.Wind= N-NW.0-6kts.Seas=6-8ft.SW. Cabin Temp=73*-76*.
Today spent 75% of the time "becalmed".
Feeling frustrated and needing to get moving, it is once again time for "Patches to come down, for what else "more patches".
Soon I find myself aloft in the boson chair, swinging around on the end of the stay sail halyard. It wasn't easy but finally managed to separate the outer jacket on the halyard that had been hanging up where it enters the mast, so that it could be pulled off the core exposing 60-feet of core.
I then sewed the new replacement halyard to the core and pulled it in to the mast and reattached it to the Genoa.
Of course "Patches was now down on deck and I began the patching process, and only managed to get one 18-inch double patch completed before it got too late.
DAY-183. 24hr.Run=44nm. Pos.Lat.26*05'S. Long.99*38'W.
Weather=Bar=1005mb Wind=SW-N -10kts. Seas= SW 6-8ft.Cabin Temp=74*-75*.
Once again I find myself with my "butt" planted on the fore deck sewing away on "Patches". I install a second double patch some 25-inches long and glued two more small double patches on with "dinghy hypalon glue".
Soon the sail is back up on the furler and now we must wait for some breeze to sail by.
Someone recently asked me what I was going to do with "Patches" after the voyage.
My first thought was a huge "bonfire" where me and all my friends wearing voodoo masks danced around "naked" as "Patches" went up in flames.
Now that was my idea, another friend, Patty had a great idea, that when I write the book about this "epic" adventure, I put a small piece of "Patches" in each of the first 10,000 copies sold, and that seems like a better idea. Now I just have to figure out how to get my publisher to do that.
My canned chicken is all gone now and all I have left is canned tuna for the rest of the voyage unless I catch something.
My water supply is less than good, as it seems as I near the bottom of the tank the salinity is going up. It is possible that some salt water was introduced into the tanks either from storm waves breaking on deck and being forced into the tanks by the air vents, or from collecting water on a less than salt free deck.
So now it is time to pull out the hand operated water-maker and pray that it works????
Feeling a little too "salty" the Jefe'.