Total Miles sailed so far=17,707 nm.
Miles sailed last 3-days=189 nm.
Miles to go to turn to the north=3685 nm.
Top speed so far =14.1 knots
Day-133 24hr Run=57 nm. Pos. Lat.44*22'S. Long.178*36'E. Weather= Bar=1022mb. Wind =0-10kts S-N. Seas=6-8ft.S. Cabin Temp=54-58*.
Day-134 24hr.Run=46nm. Pos. Lat.44*52'S. Long.179*16'E. Weather= Bar=1020mb. Wind=0-5kts. E. Seas=4-6ft..S. Cabin Temp=57-60*.
Day-135 24hr. Run=86nm. Pos. Lat.45*36'S. Long179* 00′ W.
Weather= Bar=1014mb.. Wind=5-12kts. E-NE. Seas=4-6ft. S. Cabin Temp=58*-65*.
THE REST OF THE STORY:
DAY-133.
Today there is very little going on, as we are becalmed for 12 hrs and the wind are very light, when they do show up. The high has come up on us and centered on top of us. I just can't seem to win, when I go north to get away from the storms I get becalmed and force myself back to the south in search of stronger winds.
We are still unable to reach the Date Line at 180*.
And I sewed on "Patches" for another eight hours.
DAY-134.
Today is sunny and good weather for drying out clothes, but the winds are to light to allow the wind vane to steer. I spend my day up and down from sewing getting the boat back on course, something I did at least 30-times with little results. "Patches" got 8-hours of my time once again.
DAY-135
Today Sailors Run passed another mile stone crossing Longitude 180* and back into the Western Hemisphere. "Yahooooo!!!"  This happened after 134-days and 14 hrs. at sea.
Now I will be counting down the longitude to the 85* where we make the turn North For Bahia Caraquez, Ecuador, at 400nm off the coast of Chile.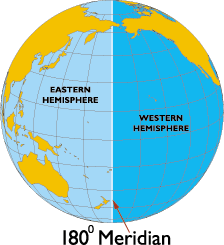 Today "Patches got yet another 8hrs of me and I'm happy to report that I'm working on the last tear about 18.5 feet long. This all requires 7-rows of zig-zag stitches by hand.
It seems I have little time for much else now, and please understand why I might not respond to an email.
I did get a much needed shower today and that always does a lot to brighten my spirits.
Making it right with "Patches" the Jefe'.