This is just a quick update on the three hundred plus boats that were being held in several of the Marinas by the Mexican-IRS. It seems that now many of the boats have been released as they had committed no foul and are now free to move about Mexico. There are still 100 boats being held at this time
Debbie and I spent over a month in Barra de Navidad and enjoyed the time there very much, watching The Super bowl, especially since our SeaHawks from Washington State won it. It was an exciting time sharing it with many local friends we have met, especially at the restaurant-Abuela's where Deb got involved with a Kindergarten fundraiser to help build a new wall, as the old one fell down & the kids cannot go out & play. The school had the children dance Mexican style & the teachers made a menu of many wonderful dishes. We also established a one hour work out program on the roads that run through the 27-hole world class golf course. We jogged and walked the 5- mile course daily and both made good headway on kicking our "butts" back into shape.[not an easy thing to do at our age].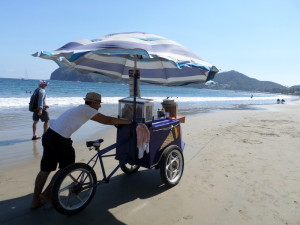 While here in Santiago on the hook we are enjoying the beautiful beaches, sitting under the umbrellas at the Palapas, now having met a great couple from Colorado, who own a restaurant in La Junta, called Hogsbreath Saloon.
One day while at one of the beach bars, Deb  had 2 margaritas, they said their drinks were to die for!! Well, seems one of the drinks was drugged as Deb started acting drunk with slurred speech after only 1 drink, we had to eventually carry her back to the dinghy thru the surf and back out to the boat, which she doesn't even remember. She later came to and became deathly sick as well, the next day we went to talk to the owner to let them know what had happened. The owner said he was gone that day and was truly sorry that it happened but had no idea who might have done it or why. I suggested possibly someone was trying out his date rape medicine to see how effective it was????
SO KEEP A CLOSE WATCH ON WHO IS SERVING YOUR DRINKS!!
NOW, I have also come up with my next great adventure that I will share with you now. I believe I have used sober judgment in deciding to do this; however there are not too many of those days available to me anymore. HA-HA!!.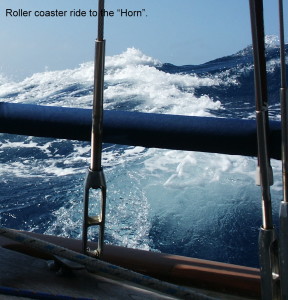 It is with sound mind and great prudence that I have decided to take on a SOLO CIRCUMNAVIGATION OF THE WORLD-NON-STOP- West to East taking all 5-great capes to Port. This adventure will require some upgrades to Sailors Run and over a year to get the boat in position to do it. The Plan is to Circumnavigate from Bahia Caraquez, Ecuador West to East and returning there some 5-months later. The intended starting date is November -1-2015. This will give me time to ready the boat and "live a little longer".
Yes I'm getting a little older now nearly 68 but I feel "F'N Great". So why not??? I have finished my first book "The Horn: Ahead or Behind, Forever on My Mind". It should be published within the next 30-days, and I will let you know the source where it will be available at.
Debbie and our cruising life is undergoing changes, "All Good I Think.  She has given me 15 great years of fun cruising together and there is no more I can ask of her. "But I Might "!!!
"Debbie's nesting Instincts" are kicking in and her need to be around the grand kids and be a bigger part of their life is real. I must try to understand and I will.
The new plan is Debbie plans to spend 6-months with family and grand kids and 6-months with me. I plan to continue doing what I truly love "Sailing".
The really tough part for us is we can comfortably afford to live our lives out together on the boat. Now it would appear that we must get creative and get Debbie a Condo Ashore and all that comes with it.
I plan to develop a blog site where all my friends can ride along with me on that solo circumnavigation which should really be exciting as you can live the adventure real time as it happens. I will also do something that I never before would have considered. I will make it a monetary site where anyone that might wish to contribute financially to the adventure and my life style will have the opportunity. Please understand that this is not necessary but if you have the desire it will be greatly appreciated and help enable the "Dream to stay alive".
Debbie and I will fly home in early May to be with family and friends and hope to see some of you then.
Debbie will stay in the U.S and I will return to spend six months in the Sea of Cortez trying not to get too Roasted over the summer. As always I will keep you all posted as to what is going on with us.
Your Amigos Jeff & Debbie